As my newsletter subscribers know, I provide readers with a more detailed playbook than just BUY/HOLD/SELL picks. Oftentimes investors need more clarity as it relates to messaging, so I provide a few more granular recommendations, such as STRONG BUY, SPECULATIVE BUY, and TRIM. Here's my definition of STRONG BUY:
"Strong Buy means that I am recommending a high-quality REIT that is trading at a wider margin of safety. Recognizing principal preservation is critical, my recommendation is telegraphing readers that the company is a blue chip on sale."
One of the key valuation differences between a regular BUY and STRONG BUY is that the company must have enhanced price appreciation catalysts that support annual Total Returns of 25% or higher (over the next two years). Around two years ago, I had just two or three STRONG BUYs recommended, but now I have eleven.
Keep in mind, a STRONG BUY does not necessarily suggest that shares in these REITs will immediately rebound. Sometimes catalysts could be driven by macro-economic forces (such as tax reform) or headwinds, that could take quarters to play out.
Regardless, my "stepped-up" BUY recommendation is based on fundamental analysis in which I believe there is a good chance that the particular stock will outperform the regular BUY basket. In this article, I will explain my rational for recommending 4 (of 11) STRONG BUYs… and I will cover all 11 in the upcoming edition of my newsletter.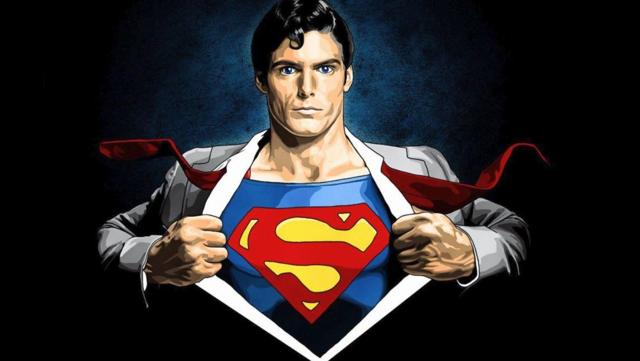 My, Oh, My, 4 Strong Buys
Kimco Realty (KIM) is a shopping center REIT that I am very confident produces a sufficient margin of safety. The company is down over 20% YTD and is trading at more than a 25% discount to what I consider to be their fair value (current price: 14.31, Fair Value: 26).
Not only is KIM trading at a significant discount to its fair value, but it also has a solid balance sheet (BBB+ rated), is well diversified, has a top-quality management team, and has an extremely attractive dividend (that is well-covered). All of these characteristics make for a strong REIT that I expect to provide enhanced shareholder value.
Kimco has recently restructured some of its debt in order to create a safe debt maturity schedule with an average time to maturity of over 10 years. That, on top of a $2 billion unused line of credit, makes for a safe and manageable debt structure into the future.
Kimco has a well-diversified portfolio of shopping centers across the nation from California to New York to Florida. They have a total of 4000 tenants with balanced lease expirations to create a higher margin of safety. On top of that, 4 out of Kimco's 5 top tenants are still rated investment grade by Moody's.
Kimco's management team is top notch and is more capable of creating alpha than a majority of other management teams. The REIT was able to increase occupancy and rental spreads even in a time of severe scrutiny towards brick and mortar retail.
Kimco was one of a few brick and mortar retail REITs that managed to increase their FFO per share between 2016 and 2017, showing the skill of the management compared to other shopping center REITs. As far as the company's dividend, it has not seen this high of a yield since pre-2008.
With consistent FFO growth and a well-covered dividend, the Kimco dividend is strong and in no worry of being cut. For these reasons, Kimco is a Strong Buy with a wide margin of safety. As the FAST Graph below indicates, KIM investors could see shares return by over 25% annually over the next 2-3 years. See my latest article HERE.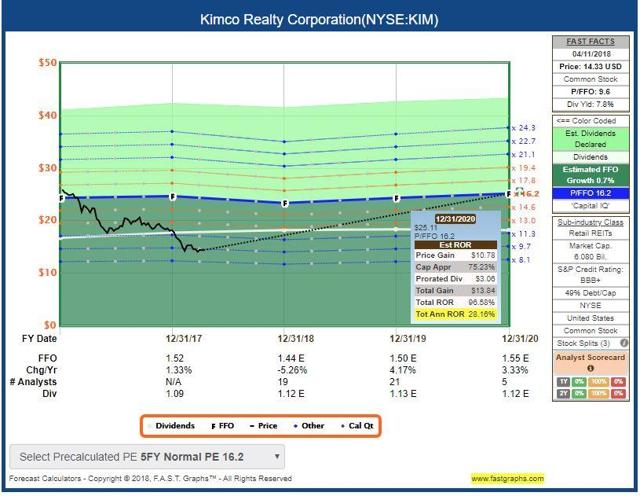 Tanger Factory Outlet Centers (SKT) is one of my favorite REITs for several reasons: (1) they have a solid management team led by veteran CEO, Steve Tanger, (2) they have had consistent dividend payments and growth since their inception (just announced a dividend increase yesterday), and (3) they maintain a fortress balance sheet (BBB+).
We will start with the management: Tanger's management has shown its ability to provide a margin of safety by maintaining an over 95% occupancy rate over the last several years. Meanwhile, the company has maintained strict financial discipline by pre-leasing all of its new projects with a minimum 60% pre-leasing rate.
Tanger's ability to grow and maintain a safe dividend is one of their most attractive features. Even in a tumultuous time for brick and mortar retailers, the company has managed to continue growing their dividend.
Right now, Tanger has a dividend yield of just over 6%, and although that is not the highest in the retail sector, it is the safest and most likely to grow. Even if Tanger hits hard times and sees a decrease in FFO, it can still continue to increase its dividend because it has a low payout ratio compared to many REITs.
Now on to Tanger's strongest feature, their fortress balance sheet.
Tanger maintains a credit rating of BBB+ from S&P, making it one of the highest rated brick and mortar retail REITs. This allows them to get cheap debt over a longer maturity schedule, creating true alpha for shareholders. Until the development cycle returns, I don't expect Tanger to produce enhanced FFO growth, but I am confident the company can manage through the cycle as it has for over two decades.
We maintain Tanger as a Strong Buy, and as viewed below, we expect shares to return around 25% annually through 2020. The continued dividend bumps serve as a catalyst that should drive the growth of the shares, and allow investors to sleep well at night. See my latest article HERE.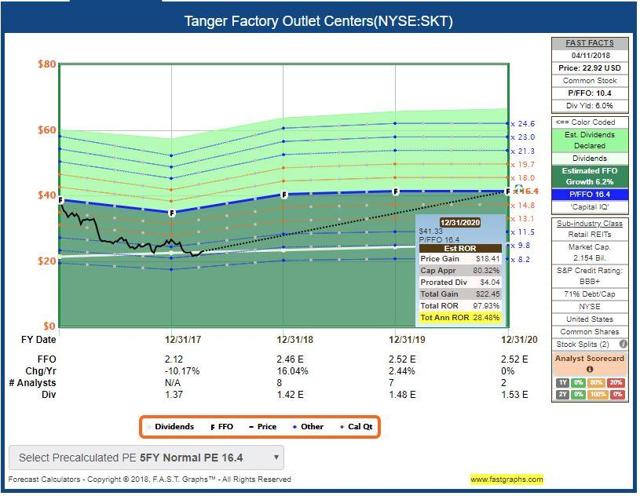 Simon Property Group (SPG) is the big boy REIT on campus, both in size and their ability to provide outsized returns for investors. The mall giant can use its low cost of debt (A-rated) and prudent capital allocation discipline to continue to produce steady and reliable earnings and dividend growth.
Financial muscle and scale are Simon's true differentiators, and by utilizing low-cost capital and global diversification, the company has been able to defend from the e-commerce enemy, Amazon (NASDAQ:AMZN). While many retail REITs are reporting not too modest FFO growth, Simon continues to validate its wide moat status by increasing their dividend, with the most recent bump coming in at a 5% bump.
While the weaker mall REITs (namely CBL & Associates (NYSE:CBL) and Washington Prime Group (NYSE:WPG)) continue to struggle with capital allocation (and dividend cuts), Simon has positioned itself well by creating robust value creation through re-development and ground-up development.
Simon offers investors a very compelling opportunity to own shares in trophy assets – the company owns primarily "A" malls, which have higher sales productivity and are in better locations than the B and C malls. The long-term outlook for the A malls is favorable and Simon's fortress balance should allow the company to continue to generate steady and reliable dividend.
Simon is yielding 5.0% with a P/FFO (13.4x) well below normal levels (18x), that suggests the company is cheap. As the lower-quality Mall REITs continue to suffer, we believe that Simon will become the clear winner in the sector. See my latest article HERE.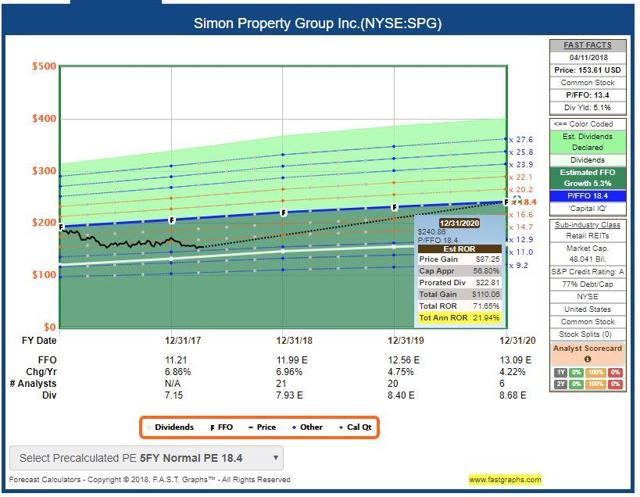 Physicians Realty Trust (DOC), and medical office REITs (or MOBs) in general, have become attractive investments.
Specifically, DOC also has a solid dividend of 6.2%, which is extremely attractive once you consider the high credit quality tenants. The company owns 14 million square feet that is 96.6% leased, with over 50% of that space leased directly to investment grade rated healthcare systems and their subsidiaries.
During 2017, the weighted average age of DOC's building improved from 20 years to 18 years and the average size of facilities increased from 44,000 feet to 50,000 feet.
DOC has very few debt obligations in the near term because in December of 2017, they paid off the remainder of their short-term debt (it termed out its short-term debt with the 10-year publicly-traded bonds in December 2017 and now has substantial liquidity). The company's debt to total capitalization in Q4-17 was 31% and the company's net debt to adjusted EBITDA was 5.7x.
I am especially glad to see DOC continue to reduce its Payout Ratio, signaling that a dividend increase could be soon (late 2018 or early 2019). The payout ratio was 100% in 2014 and is in the low 80s now.
Back in March, we updated DOC from a BUY to a STRONG BUY, expecting the company could see juicy returns of 25% annually in the short term (12-24 months). See my latest article HERE.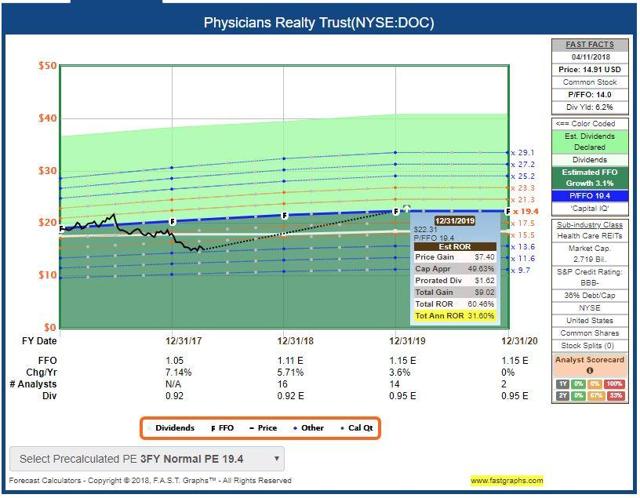 To view all 11 STRONG BUY picks CLICK HERE.
Note: Brad Thomas is a Wall Street writer, and that means he is not always right with his predictions or recommendations. That also applies to his grammar. Please excuse any typos, and be assured that he will do his best to correct any errors, if they are overlooked.
Finally, this article is free, and the sole purpose for writing it is to assist with research, while also providing a forum for second-level thinking. If you have not followed him, please take five seconds and click his name above (top of the page).
Disclosure: I am/we are long ACC, AHP, AVB, BRX, BXMT, CCI, CHCT, CIO, CLDT, CONE, CORR, CTRE, CUBE, DDR, DEA, DLR, DOC, EPR, EXR, FRT, GEO, GMRE, GPT, HASI, HTA, INN, IRET, IRM, JCAP, KIM, LADR, LAND, LMRK, LTC, MNR, NXRT, O, OFC, OHI, OUT, PEB, PEI, PK, PSB, QTS, REG, RHP, ROIC, SBRA, SKT, SPG, STAG, STOR, TCO, TXRT UBA, UMH, UNIT, VER, VNQ, VTR, WPC.
I wrote this article myself, and it expresses my own opinions. I am not receiving compensation for it (other than from Seeking Alpha). I have no business relationship with any company whose stock is mentioned in this article.