Altria (MO) is the ideal stock for dividend growth investors, with its record of 52 dividend boosts in 49 years and a current yield around 5%.
Still, the company may be facing the wrong kind of Kodak moment – a time when its primary product is in danger of being replaced by a new technology. Certainly, the maker of Marlboros won't decline as fast as the camera company, because many longtime cigarette smokers will stay with the brand until they die (from smoking or otherwise). However, the fresh supply of nicotine consumers is turning to vaping, which apparently provides both a more powerful kick and significantly reduced health risk.
JUUL's Business Exploding
JUUL Labs sales have skyrocketed nearly 800% between July 2017 and July 2018. JUUL's market share, which was just over 50%, increased to 75% in the four weeks ended October 6, according to Nielsen data quoted by CNBC, compared to just a 6% for Altria and its MarkTen brand.
Sales of conventional cigarettes, meanwhile, continue on their long downward trend, about 4.5% a year. And the government seems serious about forcing a change in nicotine consumption from cigarettes to alternative products that don't produce the cancer-causing chemicals of tobacco smoke.
FDA Commissioner Dr. Scott Gottlieb has outlined a plan to decrease smoking rates from 15% of the U.S. population to as low as 1.4%. That would be a 93% reduction. Marlboro and L&M price increases could never make up for it. Long before the full decrease was reached, the much-loved dividend would have to fall.
The obvious solution would be for Altria to invest in privately held Juul, which is raising more than $1 billion to expand globally. But there's a problem. As a company committed to responsibly reducing the harm caused by tobacco use, Altria can hardly reverse course and join a business that says one thing ("we're for adults who want to quit smoking") and does something else (offer a product that's incredibly attractive to teenagers and hook them on nicotine).
A JUUL pod typically contains 5% nicotine, as much as a full pack of cigarettes. MarkTen's concentrations range from 2.4% to 4.0%. Sadly, many teenagers don't even realize they're getting a nicotine fix.
Putting Pressure On JUUL
What Altria can do is put pressure on JUUL at the regulatory level – and that's exactly what it appeared to do last week.
In response to the FDA's demand that vapor manufacturers formulate specific plans to combat calls an epidemic of teenage use, Altria announced a three-part program aimed at discouraging teenagers from using the product:
1) Pod-based products will be removed from the market until the FDA specifically approves them, leaving cartridges inside the vape pens as the main delivery system.
2) Only tobacco, menthol, and mint flavors will be produced. Sweet flavors such as Vineyard Blend and Smooth Cream will be eliminated.
3) Altria will support a federal minimum age of 21 for all tobacco products. Currently, many states allow sales at 18.
The first two restrictions are expected to cut 20% of Altria's vapor product line by volume, but most of its sales come from cartridges in the traditional flavors. The same rules would be much more damaging if applied to JUUL, whose most popular flavor is mango, according to one poll. JUUL sells mostly flavor pods, marketing them in upscale promotional images like the one below. (Where can I get that polished wood end table?)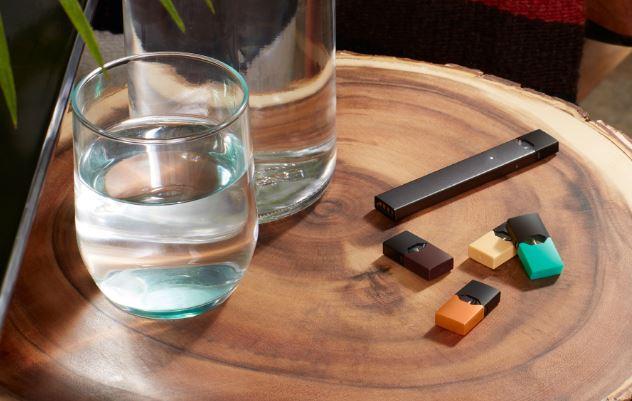 JUUL marketing uses attractive images of pods. (JUUL website photo)
Vaping advocates were outraged by Altria's restrictions, with headlines like "Altria Shows FDA How to Kill the Vaping Market."
Indeed, a ban on pods is even more than the anti-vaping Truth Initiative has requested.
MarkTen's website is considerably less sexy, as this functional image shows.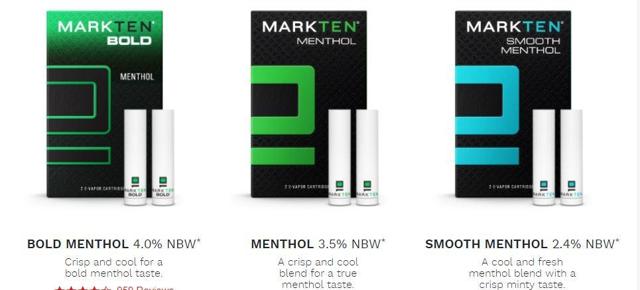 Most of MarkTen's sales come from cartridges. (MarkTen website photo)
Altria is betting on another type of cigarette alternative, heat-not-burn, which uses real tobacco rather than dispensing flavored nicotine. Under the arrangement, Altria would sell IQOS in the U.S. under the Marlboro Heat Sticks brand name and share revenue with its former subsidiary, Philip Morris International, which owns the technology. The companies are trying for FDA approval of IQOS as well as a label calling it a reduced-risk product, but have been having some difficulties.
Advantages Of Vaping
In any case, teenagers seem to prefer vaping, which has several advantages, including sweet flavors that wouldn't be legal for IQOS, which is classified as a cigarette. There's also the fact that JUUL's devices can be confused with USB flash drives by clueless parents and teachers (which I did when I saw one after my college-age son had a party).
Is Altria using its clout with regulators in a cutthroat manner to damage a disruptive competitor, as vaping advocates fear? Maybe. But given how many young people are getting addicted, this is a case where they're doing the right thing for both their business and the country.
JUUL is now under pressure to respond to the FDA's demand for action by banning sweet flavors. If it does not, regulators may order it anyway.
The likely disruption to JUUL's business could allow Altria a window of opportunity to avoid a Kodak moment. That could happen in three ways: By investing in the younger company once it is acting more ethically, by ramping up promotion of MarkTen to make it competitive with a JUUL that can no longer sell sweet flavors, and/or by making IQOS the preferred cigarette alternative if the FDA approves it and restricts vaping.
Conclusion
Altria's business model is at risk, but the company has been fighting threats to tobacco use since the Surgeon General's report of 1964 and didn't get to a $118 billion market cap without clever strategies. I consider the stock a buy.
Disclosure: I am/we are long MO.
I wrote this article myself, and it expresses my own opinions. I am not receiving compensation for it (other than from Seeking Alpha). I have no business relationship with any company whose stock is mentioned in this article.
Related Posts: