Introduction
I doubt there is any industry in history that has, or possibly ever will, create such vast amounts of wealth for their shareholders whilst facing a near constant onslaught as the tobacco industry. Even though smoking rates have been declining for decades, the strong price inelasticity of their products has allowed tobacco companies to continuously increase prices to offset lower volumes. Since they're operating in an industry facing a secular decline, it's critical to ensure their volume declines are remaining steady and thus able to be offset by price increases.
Earlier this year when Altria (MO) released their second quarter results, I was rather alarmed to see a year-on-year volume decline of 10.8%. Whilst this was largely a result of significant trade inventory movements, it prompted me to collect and analyse their historical cigarette volumes to provide context and ensure their recent volumes are within an expected steady secular decline rate.
Methodology
My methodology was quite simple, albeit time-consuming and involved collecting Altria's quarterly domestic cigarette volume data dating back to 1994 from their SEC filings, linked further down. Whilst this date may appear rather arbitrary, it was the earliest date I was able to access and still provides ample data to analyse. I also collected the retail United States market share of their flagship Marlboro brand cigarettes, which have been the world's top-selling brand since 1972.
After graphing this data, I was able to derive an exponential trend line, which should represent the expected secular decline rate for their cigarette volumes going forward. The R-squared value indicates the percentage of observations explained by the trend line, with a higher value being viewed favorably and allowing for more accurate judgments regarding their current and future volumes. If the secular decline in their cigarette volumes has been steady and predictable thus far, the R-squared value for the trend line should be quite high. A value of one is technically the maximum, however, this would be practically impossible to obtain.
Similar to all models, there are limitations with my model stemming from its reliance on historical data that may not necessarily be indicative of the future. Even though the trend line currently fits quite well, the future is unknown and various events could affect the accuracy of any projections. There are currently two events on the horizon that could materially affect Altria: the FDA's proposed plans to lower nicotine levels and ban menthol cigarettes.
Whether either of these proposals will be legislated remains to be seen, however, in the case of the menthol ban, I feel the current fears are unjustified. I outline my thoughts on this topic in my recent article and whilst it centers on British American Tobacco (BTI), the same principals apply to Altria.
Results And Discussion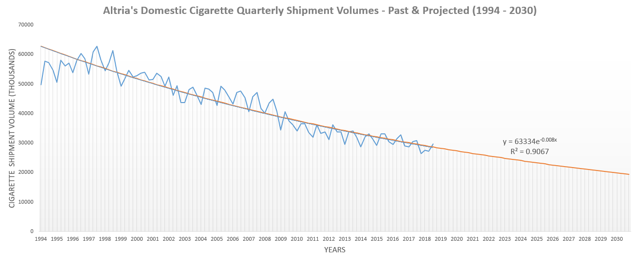 Image Source: Author.
I initially began the model using Altria's quarterly domestic cigarette volumes which are quite volatile, see above. It can be seen that despite the weakness earlier this year, their volumes never deviated from the trend line anymore significantly than during the past decades. Since more quarters of data have now been released, it can be seen their volumes have recovered and appear to be still tracking the expected secular decline rate. Finally, the R-squared value of 0.9067 indicates the trend line is explaining 90.67% of the observations and whilst I would consider this adequate, given the volatile data, I felt it could be improved.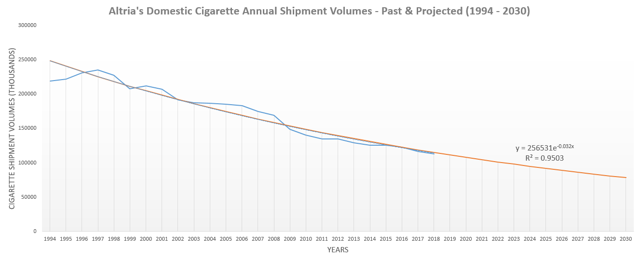 Image Source: Author.
To improve the accuracy of the model, I changed to using Altria's annual domestic cigarette volumes, which removed a significant portion of the volatility and noticeably improved the R-squared value to 0.9503. Despite what appeared to be weak volumes earlier in the year, their annual volumes are very closely tracking the expected secular decline rate.
When calculating the annual volumes for 2018, I combined the first nine months with the previous model's expected value for the fourth quarter. Since the first nine months was known, estimating the remaining three months has a minimal effect on accuracy. After reviewing this data, I noticed that from 1994 to 1997, their volumes were climbing year on year, which negatively affected the accuracy of the trend line.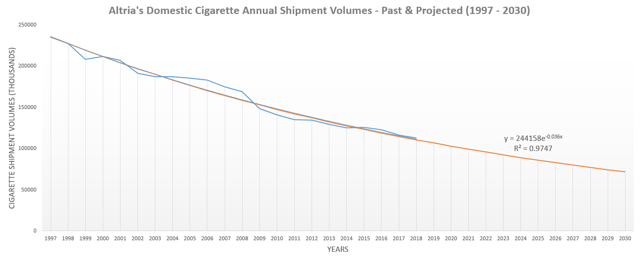 Image Source: Author.
The final step taken to improve the accuracy of the model was to remove the first three years and begin in 1997 when their cigarette volumes peaked. This improved the R-squared value even further to 0.9747 and indicates the vast amount of observations can now be explained by the trend line and thus future projections should prove accurate.
Aside from further supporting the notion their current volumes are still following the expected secular decline rate, it can now be observed their current volumes are actually slightly higher than expected. This implies their recent 'weak' volumes were a case of them returning to the expected results, rather than falling into the abyss. When evaluating their results in future reporting periods, I'll continue using this model.
Based on the forecast provided by this model, it appears during 2030 Altria should still be selling approximately 71.9 million cigarettes annually. This represents an average yearly decline of 3.7% from my estimated 2018 volumes. Whether this will be adequate to support their current earnings remains unknowable, however, I believe this will be the case given their track history and the inelastic nature of their products. Since 1997, their domestic tobacco operating profit has increased 4.78% annually to 2017, despite their volumes declining 3.45% annually.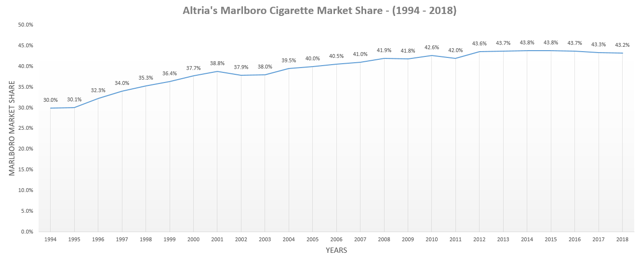 Image Source: Author.
A final aspect I find interesting to review is the market share of their flagship Marlboro brand cigarettes in the United States market. Despite the recent stagnation, they have clearly grown in popularity over the long term and amassed an impressive market share of 43.2%. Even though they have occasionally taken a hit in the past, such as earlier this decade and the early 2000s, they have always bounced back.
Given their strong track history, I'm confident the managers running Altria will continue to maintain and hopefully grow their market share over the coming decade. Notes: Unless specified otherwise, all figures in this article were taken from Altria's SEC filings contained in the following two links (1) (2) and all calculated figures were performed by the author.
Conclusion
To briefly summarize, I see no reason to be concerned about Altria's cigarette volumes as thus far they are still in line with what I expect based on their historical secular decline trend. I will be concerned if their volumes begin consistently falling below this expected trend, however, there is no evidence of this occurring to date. Obviously, future events could upset this trend and whilst no one knows the outcome of the FDA's recent proposals, I believe Altria will be capable of traversing any rough waters as they have consistently in the past.
Disclosure: I am/we are long MO, BTI.
I wrote this article myself, and it expresses my own opinions. I am not receiving compensation for it (other than from Seeking Alpha). I have no business relationship with any company whose stock is mentioned in this article.