Monday's Session
The S&P 500 (SPY) got off to an impressive start Monday, at one point posting a gain of 48 points. Once again selling conviction picked up producing another ugly set of daily candlesticks.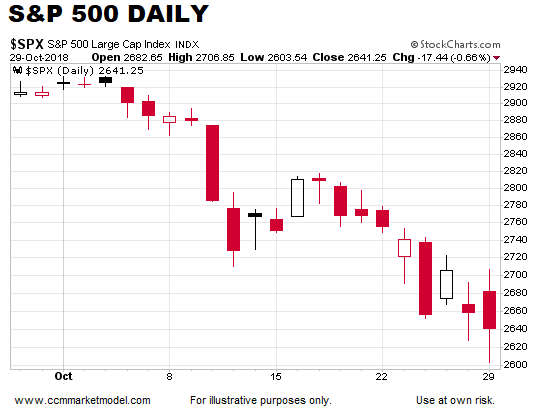 Early in the session, today's high exceeded Friday's, which is what we want to see (compare A to 1 ). Then, the market reversed sharply and dropped below Friday's low (compare B to 2), which adds to the concerns we had at the end of last week. Price was also rejected near 2700.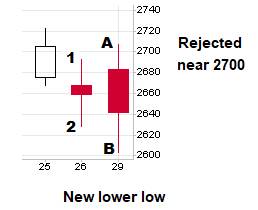 As shown in the chart below, the market also recaptured the 61.8% retracement intraday, and then closed well below it (the attempt failed). More detail on the concept of retracements can be found in a September Seeking Alpha post.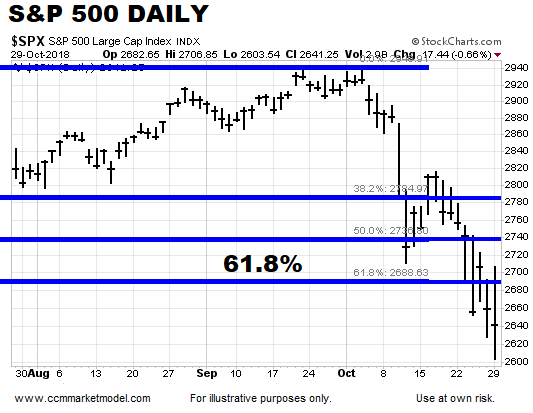 We have the same concerning "failed attempt" look on the daily chart of the NASDAQ (QQQ).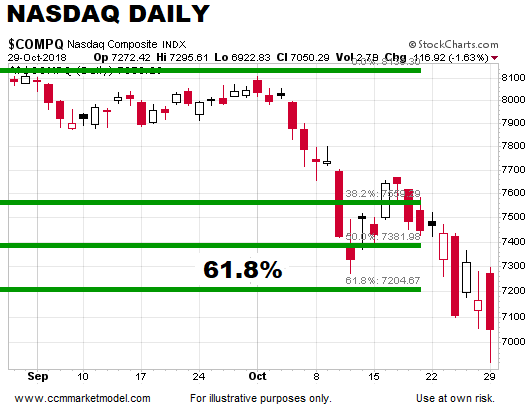 Why A Big Move Could Still Be In The Cards
This week's stock market (VTI) video kicks off with a set of observable concerns and then takes a hard look at both the bullish and bearish cases.
The market (VOO) needs to show us something that looks like a bottoming formation. Rather than getting that Monday, we got a concerning reversal near key areas. The data says "inflection point". It is difficult to make the claim the market is siding with the "big push higher" case given the shorter-term evidence we have in hand as of today's close. To the contrary, the charts in their present form still say "be careful out there".
Disclosure: I am/we are long SPY, VTI.
I wrote this article myself, and it expresses my own opinions. I am not receiving compensation for it. I have no business relationship with any company whose stock is mentioned in this article.
Related Posts: